SPENCER AEROSPACE Mgf is an industry leader in high-precision hydraulic fluid fittings : an engineer-driven organization specializing in source-controlled standard, custom-designed fittings and customers-designed parts, in a range of materials including aluminum, Inconel®, stainless steel, and titanium.
Spencer Aerospace Mgf consists of an experienced team focused exclusively on hydraulic fitting manufacturing.
Spencer Aerospace Mgf has an in-house testing lab for R&D, product qualification and verification requirements, as prescribed by NADCAP.
Spencer Aerospace Mgf also maintains close ties with certified testing labs that offer complementary testing capabilities.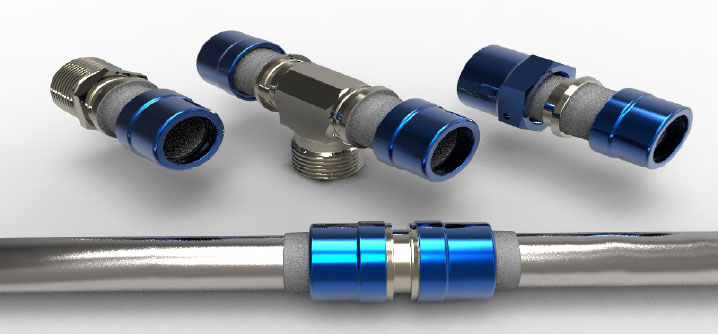 Coming in summer of 2019, Spencer Aerospace Manufacturing, LLC. will be introducing its line of
permanent high-pressure hydraulic fittings.
AXIAL SWAGED titanium fittings designed for hydraulic and pneumatic titanium and stainless-steel tube connections at operating pressures ranging from 1,500 to 5,080 psi (103 to 350 bar) in temperatures from -65 to +275°F (-54 to +135°C) will be completing qualification in accordance with SAE AS5958 Class 1, to be listed as a QPL manufacturer per PRI-QPL-AS5958.
AXIAL SWAGED fittings are designed and qualified to be compatible with existing Axial Swaged installation tooling conforming to SAE AS5959 available in the aerospace market.
AXIAL SWAGED fittings are lightweight, compact and connect to aerospace tubing permanently without the need for extra components (i.e. sleeves and/or nuts).