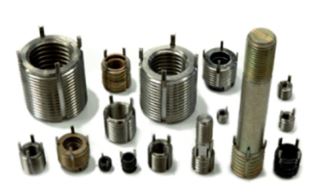 – Metric thread M2 to M30 (on request/demand)    
– Positive locking by keys (pre-assembled) rotation
– Excellent wear resistance    
– Allows repair of damaged tapped hole   
– Stainless steel material, carbon steel …    
– Passivated finish according to EN 2516    
– Available in miniature series, light and reinforced    
– Easy to install and use 
Keensert® inserts are high-strength threaded inserts in stainless steel (303 stainless steel insert, 302 stainless steel keys).
They are passivated according to the EN 2516 standard. Our standard range is metric threaded.
Special dimensions (finishes/others) are available on request. 
These inserts can be used in various alloys, light materials, steel, cast iron to increase the tapping resistance in these materials. They can be used for repairing damaged threads when it must be replaced while maintaining the same nominal diameter.
Keensert® inserts are wear-resistant. Multiple screwing and unscrewing of the screw are possible. The self-locking inserts have a dry lubrication which protects the screw against wear. 
Positive locking prevents rotation and provides better vibration resistance. Depending on the size, the inserts have 2 to 4 pre-assembled keys.
There are several series of inserts:
– miniature
– lightweight
– consolidated
– locking and free running versions
– one-eyed
– floating
– stud
1) Drilling with a standard drill adapted to the material
2) Making a chamfer (80 ° – 100 °)
3) Tapping at the outside diameter of the insert
4) Manual screwing or with the proposed installation tool
5) Depressing the keys with the help of the proposed tooling and hammer or using a press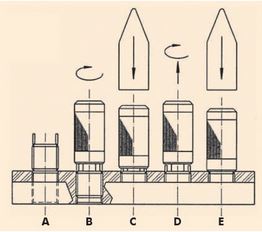 A) Position the keensert® in front of the threaded hole and start to screw by hand.
B) Engage the keys in the notches of the assembly tool and finish the screwing.
C) Keep the keys in the notches of the tool then using a hammer to tap on the tool of
way to allow him to push the keys partially and until the bearing surface of the tool comes into contact with keensert®.
D) Raise and rotate the tool 45 °.
E) Put the contact surface of the tool in contact with the keys and finish pushing them in tapping again with a hammer on the tool.
In some cases, the pre-pinning operation may be recommended: For materials with a hardness greater than 30 HRC or 300 Vickers, a tool for broaching is necessary. The installation of the inserts is as described above, but before driving the keys, make a marking of the positions of the keys, remove the insert and make a broaching with the tool provided for this purpose. Available from M5.