Encapsulated joints are usually composed of an elastomer core (Viton or Silicone)coated with FEP ® fluoropolymer sheath or Teflon PFA ®.
This concept combines excellent chemical resistance, good mechanical protectionand sufficient elasticity to achieve a reliable seal in the long term.
– Good compression ratio
– Extruded materials to guarantee dimensions (no air infiltration)
– 100% pure, high quality materials (DuPont ™ licensee)
– Excellent chemical resistance
– Wide dimensional range
– Possibility to make specific profiles and dimensions on request.
Vulcanized joints (Vulc O rings):
These joints are made by extrusion more welding, they have a high level of performance while maintaining great versatility compared to a molded joint solution.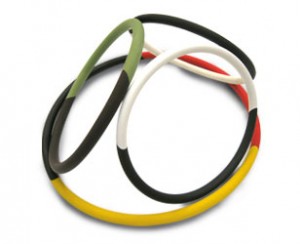 – High quality
– All diameters achievable
– 100% pure, high quality materials (DuPont ™ licence)
– Very low tooling cost
These seals are available in many sizes and have 95% strength of a fully molded seal. They have a very low compression ratio because of the high quality of the materials used (DuPont ™ licence). The seals are designed with tight tolerances (E1; ISO3601-3 'Grade CS'); ± 0.5mm
Inflatable seals are recommended for high level sealing applications (nuclear, chemical industry …).
Their expansion makes it possible to compensate for a contours and to apply pressure constant over the entire outline of the joint.